Message from the chairman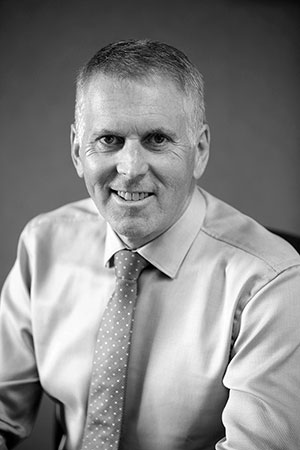 DAVID STERLING
It's a great honour to be asked to take up the chairmanship of the Chief Executives' Forum particularly when I look back at those who have been in the role before me.
I come to the task fresh from witnessing at first hand the remarkable work of public servants across Northern Ireland delivering for our citizens in the face of challenges which would have been unimaginable just a few short years ago. I have always been inspired by the ability of our people to deliver regardless of the circumstances: austerity cuts; absence of political leadership; Brexit uncertainty and, most recently, with the Covid-19 pandemic.
As public service leaders we must accept that volatility and uncertainty are here to stay, with little prospect of significant economic growth or any major expansion of public expenditure in the near term.
In this new context, we will have to work together like never before to deliver the best possible outcomes for our people. They should expect and deserve nothing less.
The good things we have done in the past have been achieved by leaders like us working across boundaries. I have seen at first-hand the necessity of building relationships and establishing trust with other leaders, and working to cascade that culture throughout our organisations. The response to the pandemic has shown how we can work together at pace to deliver when lives depend on it. This type of collaboration must become the norm and not the exception.
The Chief Executives' Forum has been important in providing a 'space' for leaders to gather, to learn together and to build and develop relationships they can draw on when the next curve ball arrives. I am passionate about building on the work of the Forum and developing it further, enhancing understanding of our common challenges across the public sector, and helping to break down barriers to effective delivery. I am delighted to have this opportunity to work with so many valued former colleagues and partners across the public sector, and I am determined to ensure the Forum can make a positive contribution to the challenge of delivering recovery and renewal in Northern Ireland over the next few years. I also want to explore how the Forum might provide a better-informed picture of the work of the public sector to create a more balanced representation of our public services.
I want to pay tribute to my predecessor, Stephen Peover, who led the Forum for the last five years. Stephen brought unique insights to the organisation, providing a reassuring, calm and reflective presence for members during a period of great challenge for the entire public sector. On behalf of all our members, I would like to wish him a long and happy retirement ahead.
I also want to acknowledge the contributions of a number of Forum board members, who completed two terms over recent months: Dr Evelyn Collins; Peter May; Frances McCandless; Iain Greenway and Roisin McDonough.
I look forward to meeting CEF Members, facilitators and colleagues at future events, either virtually or in person.
- David